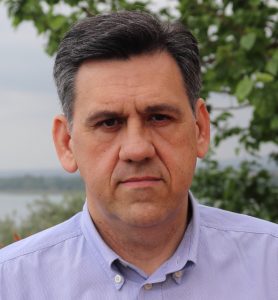 | | |
| --- | --- |
| Name: | Athanasios Kanatas |
| Title: | Professor |
| Telephone: | +30 210-4142759 |
| Email: | kanatas(-at-)unipi(-dot-)gr |
Athanasios (Thanasis) G. Kanatas is a Professor at the Department of Digital Systems at the University of Piraeus, Greece. He received the Diploma in Electrical Engineering from the National Technical University of Athens (NTUA), Greece, in 1991, the M.Sc. degree in Satellite Communication Engineering from the University of Surrey, Surrey, UK in 1992, and the Ph.D. degree in Mobile Satellite Communications from NTUA, Greece in February 1997. From 1993 to 1994 he was with National Documentation Center of National Research Institute. In 1995, he joined SPACETEC Ltd. as Technical Project Manager for VISA/EMEA VSAT Project in Greece. In 1996, he joined the Mobile Radio-Communications Laboratory as a research associate. From 1999 to 2002 he was with the Institute of Communication & Computer Systems responsible for the technical management of various research projects. In 2000, he became a member of the Board of Directors of OTESAT S.A. In 2002, he joined the University of Piraeus as an Assistant Professor. He has published more than 190 papers in international journals and conference proceedings. He is the author of 6 books in the field of wireless and satellite communications in Greek and/or English language. He has been the technical manager of several European and National R&D projects. His current research interests include the development of new waveforms and digital techniques for next generation wireless and satellite communications systems; channel characterization, simulation, and modeling for mobile and mobile-satellite communication systems; antenna design, and V2V communications. He has been a Senior Member of IEEE since 2002. In 1999, he was elected Chairman of the Communications Society of the Greek Section of IEEE. From 2013 to 2017, he has served as Dean of the School of Information & Communication Technologies of the University of Piraeus, Greece.
Publications for the Period 1996-2018

Last Update: 30/09/2023
Author
Title
Year
Journal/Proceedings
DOI/URL
C. K. Armeniakos, P. S. Bithas and A. G. Kanatas
SIR Analysis in 3D UAV Networks: A Stochastic Geometry Approach
2020
IEEE Access
DOI
E. T. Michailidis, S.M. Potirakis, A.G. Kanatas
AI-Inspired Non-Terrestrial Networks for IIoT: Review on Enabling Technologies and Applications
2020
IoT
DOI
P. S. Bithas, V. Nikolaidis, A. G. Kanatas and G. K. Karagiannidis
UAV-to-Ground Communications: Channel Modeling and UAV Selection
2020
IEEE Transactions on Communications
DOI
K. Maliatsos, L. Marantis, P. S. Bithas, Athanasios G. Kanatas
Hybrid Multi-Antenna Techniques for V2X Communications: Prototyping and Experimentation
2020
Telecom
DOI
D. K. Rongas, A. S. Paraskevopoulos, L. D. Marantis, and A. G. Kanatas
An Integrated Shark-Fin Reconfigurable Antenna for V2X Communications
2020
Progress In Electromagnetics Research C
DOI
V. Nikolaidis, N. Moraitis, D. Vouyioukas, A. Kanatas
Building Entry Loss and Capacity Evaluation of a UAV-to-Indoor Dual-Polarized MIMO Channel
2020
IET Microwaves, Antennas & Propagation
DOI
E. T. Michailidis, N. Nomikos, P. Trakadas and A. G. Kanatas
Three-Dimensional Modeling of mmWave Doubly Massive MIMO Aerial Fading Channels
2020
IEEE Transactions on Vehicular Technology
DOI
P. Bithas, E. Michailidis, N. Nomikos, D. Vouyioukas, A. Kanatas
A Survey on Machine-Learning Techniques for UAV-Based Communications
2019
Sensors
DOI
C. Kalloniatis, V. Diamantopoulou, K. Kotis, C. Lyvas, K. Maliatsos, M. Gay, A. Kanatas, and C. Lambrinoudakis
Towards the design of an assurance framework for increasing security and pri-vacy in connected vehicles
2019
International Journal of Internet of Things and Cyber-Assurance
P. S. Bithas, A. G. Kanatas, D. B. da Costa, P. K. Upadhyay and A. Hatziefremidis
Novel Results for the Multivariate Ricean Distribution With Non-Identical Parameters
2019
IEEE Transactions on Vehicular Technology
DOI  
Emmanouel T. Michailidis, Nikolaos Nomikos, Petros S. Bithas, Demosthenes Vouyioukas, Athanasios G. Kanatas
Optimal 3-D Aerial Relay Placement for Multi-User MIMO Communications

2019
IEEE Transactions on Aerospace and Electronic Systems

DOI  
Bankey, V., Upadhyay, P.K., Costa, D.B.D., Bithas, P.S., Kanatas, A.G. and Dias, U.S.
Performance Analysis of Multi-Antenna Multiuser Hybrid Satellite-Terrestrial Relay Systems for Mobile Services Delivery
2018
IEEE Access
Vol. 6, pp. 24729-24745 
DOI  
Bithas, P.S., Kanatas, A.G., da Costa, D.B., Upadhyay, P.K. and Dias, U.S.
On the Double-Generalized Gamma Statistics and Their Application to the Performance Analysis of V2V Communications
2018
IEEE Transactions on Communications
Vol. 66(1), pp. 448-460 
DOI  
Bithas, P.S., Efthymoglou, G.P. and Kanatas, A.G.
V2V Cooperative Relaying Communications Under Interference and Outdated CSI
2018
IEEE Transactions on Vehicular Technology
Vol. 67(4), pp. 3466-3480 
DOI  
Marantis, L., Rongas, D., Paraskevopoulos, A., Oikonomopoulos-Zachos, C. and Kanatas, A.
Pattern reconfigurable ESPAR antenna for vehicle-to-vehicle communications
2018
IET Microwaves, Antennas & Propagation
Vol. 12(3), pp. 280-286 
DOI  
E. T. Michailidis S. M. Potirakis and Kanatas, A.G.
Enhancing the Industrial Internet of Things via Aerospace Communication Infrastructures
2018
Industrial Electronics and Applications 
 
Nikolaidis, V., Moraitis, N. and Kanatas, A.G.
Statistical characterization of an urban dual-polarized MIMO LMS channel
2018
International Journal of Satellite Communications and Networking 
DOI  
Nikolaidis, V., Moraitis, N., Bithas, P.S. and Kanatas, A.G.
Multiple Scattering Modeling for Dual-Polarized MIMO Land Mobile Satellite Channels
2018
IEEE Transactions on Antennas and Propagation, pp. 1-1 
DOI  
Peppas, K., Efthymoglou, G. and Kanatas, A.G.
Approximations to the Distribution of the Sum of Generalized Normal RVs using the Moments Matching Method and its Applications in Performance Analysis of Equal Gain Diversity Receivers
2018
IEEE Transactions on Vehicular Technology, pp. 1-1 
DOI  
Solanki, S., Upadhyay, P.K., da Costa, D.B., Bithas, P.S., Kanatas, A.G. and Dias, U.S.
Joint Impact of RF Hardware Impairments and Channel Estimation Errors in Spectrum Sharing Multiple-Relay Networks
2018
IEEE Transactions on Communications, pp. 1-1 
DOI  
Efthymoglou, G., Bithas, P. and Kanatas, A.
Exact SNR and SIR analysis in Poisson wireless networks
2017
Electronics Letters
Vol. 53(5), pp. 356-358 
DOI  
Nikolaidis, V., Moraitis, N. and Kanatas, A.G.
Dual-Polarized Narrowband MIMO LMS Channel Measurements in Urban Environments
2017
IEEE Transactions on Antennas and Propagation
Vol. 65(2), pp. 763-774 
DOI  
Ortega, Y.R., Upadhyay, P.K., da Costa, D.B., Bithas, P.S., Kanatas, A.G., Dias, U.S. and de Sousa Junior, R.T.
Joint effect of jamming and noise on the secrecy outage performance of wiretap channels with feedback delay and multiple antennas
2017
Transactions on Emerging Telecommunications Technologies
Vol. 28(11), pp. e3191 
DOI  
Sharma, P.K., Upadhyay, P.K., da Costa, D.B., Bithas, P.S. and Kanatas, A.G.
Performance Analysis of Overlay Spectrum Sharing in Hybrid Satellite-Terrestrial Systems With Secondary Network Selection
2017
IEEE Transactions on Wireless Communications
Vol. 16(10), pp. 6586-6601 
DOI  
Bithas, P.S., Maliatsos, K. and Kanatas, A.G.
The Bivariate Double Rayleigh Distribution for Multichannel Time-Varying Systems
2016
IEEE Wireless Communications Letters
Vol. 5(5), pp. 524-527 
DOI  
Styliani Fassoi, E.M. and Kanatas, A.G.
Performance Analysis of MIMO Satellite Communications Via Multiple Terrestrial Non-Regenerative Relay Nodes
2016
International Journal On Advances in Telecommunications
Vol. 9(3 and 4), pp. 35 to 43 
 
Peppas, K.P., Bithas, P.S., Efthymoglou, G.P. and Kanatas, A.G.
Space Shift Keying Transmission for Intervehicular Communications
2016
IEEE Transactions on Intelligent Transportation Systems
Vol. 17(12), pp. 3635-3640 
DOI  
Bithas, P.S., Efthymoglou, G.P. and Kanatas, A.G.
SEP of rectangular QAM in composite fading channels
2015
AEU - International Journal of Electronics and Communications
Vol. 69(1), pp. 246-252 
DOI  
Eldowek, B.M., Michailidis, E.T., Albagory, Y.A., Abd-Elnaby, M., El-Rabaie, E.-S.M., Dessouky, M.I., Shalaby, A.-A.T., Sallam, B.M., El-Samie, F.E.A. and Kanatas, A.G.
Complex Envelope Second-Order Statistics in High-Altitude Platforms Communication Channels
2014
Wireless Personal Communications
Vol. 77(4), pp. 2517-2535 
DOI  
Han, B., Barousis, V.I., Kalis, A., Papadias, C.B., Kanatas, A.G. and Prasad, R.
A Single RF MIMO Loading Network for High-Order Modulation Schemes
2014
International Journal of Antennas and Propagation
Vol. 2014, pp. 1-10 
DOI  
Maliatsos, K., Vasileiou, P.N. and Kanatas, A.G.
Performance Evaluation of Beamspace MIMO Systems with Channel Estimation in Realistic Environments
2014
Journal of Cyber Security and Mobility
Vol. 2(3), pp. 265-290 
DOI  
Maliatsos, K., Adamis, A. and Kanatas, A.G.
Elaborate analysis and design of filter-bank-based sensing for wideband cognitive radios
2014
EURASIP Journal on Advances in Signal Processing
Vol. 2014(1) 
DOI  
Moraitis, N., Vasileiou, P.N., Kakoyiannis, C.G., Marousis, A., Kanatas, A.G. and Constantinou, P.
Radio Planning of Single-Frequency Networks for Broadcasting Digital TV in Mixed-Terrain Regions
2014
IEEE Antennas and Propagation Magazine
Vol. 56(6), pp. 123-141 
DOI  
Petropoulou, P., Michailidis, E.T., Panagopoulos, A.D. and Kanatas, A.G.
Radio Propagation Channel Measurements for Multi-Antenna Satellite Communication Systems: A Survey
2014
IEEE Antennas and Propagation Magazine
Vol. 56(6), pp. 102-122 
DOI  
Thomatos, E.D., Vasileiou, P.N. and Kanatas, A.G.
Genetic algorithm applied to beamspace-multiple-input and multiple-output single-radio frequency front-end reconfigurable transceivers
2014
IET Microwaves, Antennas & Propagation
Vol. 8(9), pp. 679-687 
DOI  
Maliatsos, K., Adamis, A. and Kanatas, A.G.
Interference versus filtering distortion trade-offs in OFDM-based cognitive radios
2013
Transactions on Emerging Telecommunications Technologies
Vol. 24(7-8), pp. 692-708 
DOI  
Michailidis, E.T., Theofilakos, P. and Kanatas, A.G.
Three-Dimensional Modeling and Simulation of MIMO Mobile-to-Mobile via Stratospheric Relay Fading Channels
2013
IEEE Transactions on Vehicular Technology
Vol. 62(5), pp. 2014-2030 
DOI  
Michailidis, E.T. and Kanatas, A.G.
Wideband HAP-MIMO Channels: A 3-D Modeling and Simulation Approach
2013
Wireless Personal Communications
Vol. 74(2), pp. 639-664 
DOI  
Nomikos, N., Michailidis, E.T., Vouyioukas, D. and Kanatas, A.G.
Performance Analysis of a Two-Hop MIMO Mobile-to-Mobile via Stratospheric-Relay Link Employing Hierarchical Modulation
2013
International Journal of Antennas and Propagation
Vol. 2013, pp. 1-10 
DOI  
Siamarou, A.G., Theofilakos, P. and Kanatas, A.G.
60 GHz Wireless Links for HDTV: Channel Characterization and Error Performance Evaluation
2013
Progress In Electromagnetics Research C
Vol. 36, pp. 195-205 
DOI  
Vasileiou, P.N., Maliatsos, K., Thomatos, E.D. and Kanatas, A.G.
Reconfigurable Orthonormal Basis Patterns Using ESPAR Antennas
2013
IEEE Antennas and Wireless Propagation Letters
Vol. 12, pp. 448-451 
DOI  
Barousis, V.I., Kanatas, A.G., Kalis, A. and Perruisseau-Carrier, J.
Reconfigurable parasitic antennas for compact mobile terminals in multiuser wireless systems
2012
EURASIP Journal on Wireless Communications and Networking
Vol. 2012(1) 
DOI  
Arapoglou, P.-D., Michailidis, E., Panagopoulos, A., Kanatas, A. and Prieto-Cerdeira, R.
The Land Mobile Earth-Space Channel
2011
IEEE Vehicular Technology Magazine
Vol. 6(2), pp. 44-53 
DOI  
Barousis, V.I., Kanatas, A.G. and Kalis, A.
Beamspace-Domain Analysis of Single-RF Front-End MIMO Systems
2011
IEEE Transactions on Vehicular Technology
Vol. 60(3), pp. 1195-1199 
DOI  
Barousis, V. and Kanatas, A.G.
Aerial Degrees of Freedom of Parasitic Arrays for Single Rf Front-end Mimo Transceivers
2011
Progress In Electromagnetics Research B
Vol. 35, pp. 287-306 
DOI  
Kanatas, A.G., Kalis, A. and Efthymoglou, G.P.
A single hop architecture exploiting cooperative beamforming for wireless sensor networks
2011
Physical Communication
Vol. 4(3), pp. 237-243 
DOI  
Michailidis, E.T. and Kanatas, A.G.
Statistical Simulation Modeling of 3-D HAP-MIMO Channels
2011
Wireless Personal Communications
Vol. 65(4), pp. 833-841 
DOI  
Michailidis, E. and Kanatas, A.
Capacity Analysis and Simulation of 3-D Space-Time Correlated HAP-MIMO Channels
2011

Vol. 4International Journal On Advances in Telecommunications 
 
Barousis, V., Kanatas, A., Skentos, N. and Kalis, A.
Pattern diversity for single RF user terminals in multiuser environments
2010
IEEE Communications Letters
Vol. 14(2), pp. 151-153 
DOI  
Kalis, A. and Kanatas, A.G.
Cooperative Beam Forming in Smart Dust: Getting Rid of Multihop Communications
2010
IEEE Pervasive Computing
Vol. 9(3), pp. 47-53 
DOI  
Kalis, A., Kanatas, A. and Efthymoglou, G.
A co-operative beamforming solution for eliminating multi-hop communications in wireless sensor networks
2010
IEEE Journal on Selected Areas in Communications
Vol. 28(7), pp. 1055-1062 
DOI  
Michailidis, E.T. and Kanatas, A.G.
Three-Dimensional HAP-MIMO Channels: Modeling and Analysis of Space-Time Correlation
2010
IEEE Transactions on Vehicular Technology
Vol. 59(5), pp. 2232-2242 
DOI  
Spiliotopoulos, C.G. and Kanatas, A.G.
Channel Measurements and Modelling in a Military Cargo Airplane
2010
Progress In Electromagnetics Research B
Vol. 26, pp. 69-100 
DOI  
Bravos, G. and Kanatas, A.G.
Integrating power control with routing to satisfy energy and delay constraints in sensor networks
2009
European Transactions on Telecommunications
Vol. 20(2), pp. 233-245 
DOI  
Karamalis, P., Kanatas, A. and Constantinou, P.
A Genetic Algorithm Applied for Optimization of Antenna Arrays Used in Mobile Radio Channel Characterization Devices
2009
IEEE Transactions on Instrumentation and Measurement
Vol. 58(8), pp. 2475-2487 
DOI  
Spiliotopoulos, C. and Kanatas, A.
Path-Loss and Time-Dispersion Parameters of UWB Signals in a Military Airplane
2009
IEEE Antennas and Wireless Propagation Letters
Vol. 8, pp. 790-793 
DOI  
Barousis, V., Kanatas, A., Kalis, A. and Papadias, C.
A Stochastic Beamforming Algorithm for ESPAR Antennas
2008
IEEE Antennas and Wireless Propagation Letters
Vol. 7, pp. 745-748 
DOI  
Bravos, G. and Kanatas, A.G.
Energy Efficiency Comparison of MIMO-Based and Multihop Sensor Networks
2008
EURASIP Journal on Wireless Communications and Networking
Vol. 2008, pp. 1-13 
DOI  
Kalis, A., Kanatas, A. and Papadias, C.
A Novel Approach to MIMO Transmission Using a Single RF Front End
2008
IEEE Journal on Selected Areas in Communications
Vol. 26(6), pp. 972-980 
DOI  
Theofilakos, P. and Kanatas, A.
Maximising capacity of MIMO systems with receive antenna subarray formation
2008
Electronics Letters
Vol. 44(20), pp. 1204 
DOI  
Theofilakos, P., Kanatas, A. and Efthymoglou, G.
Performance of generalized selection combining receivers in K fading channels
2008
IEEE Communications Letters
Vol. 12(11), pp. 816-818 
DOI  
Kanatas, A.
A Receive Antenna Subarray Formation Algorithm for MIMO Systems
2007
IEEE Communications Letters
Vol. 11(5), pp. 396-398 
DOI  
Skentos, N.D., Marousis, A.D., Kanatas, A.G. and Constantinou, P.
Experimental multipath component characteristics for short range urban propagation environments
2007
European Transactions on Telecommunications
Vol. 18(6), pp. 595-603 
DOI  
Theofilakos, P. and Kanatas, A.G.
Capacity Performance of Adaptive Receive Antenna Subarray Formation for MIMO Systems
2007
EURASIP Journal on Wireless Communications and Networking
Vol. 2007(1), pp. 056471 
DOI  
Karamalis, P., Skentos, N. and Kanatas, A.
Adaptive Antenna Subarray Formation for MIMO Systems
2006
IEEE Transactions on Wireless Communications
Vol. 5(10), pp. 2977-2982 
DOI  
Skentos, N.D., Kanatas, A.G., Dallas, P.I. and Constantinou, P.
MIMO Channel Characterization for Short Range Fixed Wireless Propagation Environments
2006
Wireless Personal Communications
Vol. 36(4), pp. 339-361 
DOI  
Karamalis, P., Skentos, N. and Kanatas, A.
Selecting Array Configurations for MIMO Systems: An Evolutionary Computation Approach
2004
IEEE Transactions on Wireless Communications
Vol. 3(6), pp. 1994-1998 
DOI  
Angelou, E., Koutsokeras, N., Kanatas, A., Andrikopoulos, I. and Constantinou, P.
Admission Control and Channel Mapping Strategies for GEO Satellite Multicast/Broadcast Systems
2003
WSEAS Transactions on Circuits
Vol. 2(1) 
 
Kanatas, A., Moraitis, N., Angelou, E. and Constantinou, P.
Measurements and channel characterization at 1.89 GHz in modern office buildings
2003
European Transactions on Telecommunications
Vol. 14(2), pp. 177-192 
DOI  
Pantos, G., Kanatas, A. and Constantinou, P.
Performance evaluation of OFDM transmission over a challenging urban propagation environment
2003
IEEE Transactions on Broadcasting
Vol. 49(1), pp. 87-96 
DOI  
Kanatas, A.G. and Constantinou, P.
A narrowband land mobile satellite channel software simulator for urban environments
2000
International Journal of Satellite Communications
Vol. 18(1), pp. 17-45 
DOI  
Kanatas, A. and Constantinou, P.
A propagation prediction tool for urban mobile radio systems
2000
IEEE Transactions on Vehicular Technology
Vol. 49(4), pp. 1348-1355 
DOI  
Kanatas, A. and Constantinou, P.
City center high-elevation angle propagation measurements at L band for land mobile satellite systems
1998
IEEE Transactions on Vehicular Technology
Vol. 47(3), pp. 1002-1011 
DOI  
Kanatas, A., Papadakis, N. and Constantinou, P.
An empirical model for high elevation angle land-mobile satellite channels at urban environment
1998
IEEE Communications Letters
Vol. 2(4), pp. 92-93 
DOI  
Papadakis, N., Kanatas, A. and Constantinou, P.
Microcellular propagation measurements and simulation at 1.8 GHz in urban radio environment
1998
IEEE Transactions on Vehicular Technology
Vol. 47(3), pp. 1012-1026 
DOI  
Kanatas, A., Kountouris, I., Kostaras, G. and Constantinou, P.
A UTD propagation model in urban microcellular environments
1997
IEEE Transactions on Vehicular Technology
Vol. 46(1), pp. 185-193 
DOI  
Kanatas, A.G. and Constantinou, P.
Narrowband characterisation of the land mobile satellite channel: A comparison of empirical models
1996
European Transactions on Telecommunications
Vol. 7(4), pp. 315-321 
DOI  
Publications for the Period 1996-2018

Last Update: 30/09/2023
| Author | Title | Year | Journal/Proceedings | DOI/URL |
| --- | --- | --- | --- | --- |
| Bithas, P., Kanatas, A., da Costa, D. and Upadhyay, P. | A Low Complexity Communication Technique for Mobile-to-Mobile Communication Systems | 2018 | 14th International Wireless Communications and Mobile Computing Conference (IWCMC 2018)  |   |
| Bithas, P., Kanatas, A. and Matolak, D. | Shadowing-Based Antenna Selection for V2V Communications | 2018 | IEEE 29th Annual International Symposium on Personal, Indoor, and Mobile Radio Communications (PIMRC) - Workshop WS-03 "International Workshop on V2X Communications and Channel Modeling  |   |
| E. T. Michailidis S. M. Potirakis and Kanatas, A.G. | Realizing Challenging Internet of Things Applications Via Aerospace Infrastructures | 2018 | 10th International Conference on Advances in Satellite and Space Communications (SPACOMM 2018)  |   |
| E.T. Michailidis N. Nomikos, P.B.D.V. and Kanatas, A. | Outage Probability of Triple-Hop Mixed RF/FSO/RF Stratospheric Communication Systems | 2018 | 10th International Conference on Advances in Satellite and Space Communications (SPACOMM 2018)  |   |
| E. T. Michailidis N. Nomikos, P.B.D.V. and Kanatas, A.G. | Optimal Relay Location and Oppοrtunistic User-Scheduling for Stratospheric Communications | 2018 | 10th International Conference on Advances in Satellite and Space Communications (SPACOMM 2018)  |   |
| Nikolaidis, V., Moraitis, N., Vouyioukas, D. and Kanatas, A.G. | Capacity Evaluation of a Satellite-to-Indoor Narrowband Dual Polarized MIMO Channel | 2018 | 2018 12th European Conference on Antennas and Propagation (EuCAP)  |   |
| P. Pantazopoulos S. Haddad, C.L.C.K.K.M.A.K.A.V.M.G. and Amditis, A. | Towards a Security Assurance Framework for Connected Vehicles | 2018 | 19TH IEEE Int. Symposium on a World of Wireless, Mobile and Multimedia Networks, (WOWMOM 2018)  |   |
| Bithas, P.S., Kanatas, A.G., da Costa, D.B. and Upadhyay, P.K. | Transmit antenna selection in vehicle-to-vehicle time-varying fading channels | 2017 | 2017 IEEE International Conference on Communications (ICC)  | DOI   |
| Bithas, P.S., Kanatas, A.G., da Costa, D.B., Upadhyay, P.K. and Dias, U.S. | The Double-Generalized Gamma Distribution and Its Application to V2V Communications | 2017 | GLOBECOM 2017 - 2017 IEEE Global Communications Conference  | DOI   |
| Marantis, L., Maliatsos, K., Oikonomopoulos-Zachos, C., Rongas, D.K., Paraskevopoulos, A., Aspreas, A. and Kanatas, A.G. | The pattern selection capability of a printed ESPAR antenna | 2017 | 2017 11th European Conference on Antennas and Propagation (EUCAP)  | DOI   |
| Marantis, L., Paraskevopoulos, A., Rongas, D., Kanatas, A., Oikonomopoulos-Zachos, C. and Voell, S. | A printed monopole ESPAR antenna for Truck-to-Truck communications | 2017 | 2017 International Workshop on Antenna Technology: Small Antennas, Innovative Structures, and Applications (iWAT)  | DOI   |
| Nikolaidis, V., Moraitis, N. and Kanatas, A.G. | Spatially separated single-polarized vs. collocated dual-polarized MIMO measurements | 2017 | 2017 11th European Conference on Antennas and Propagation (EUCAP)  | DOI   |
| Ortega, Y.R., Upadhyay, P.K., da Costa, D.B., Bithas, P.S., Kanatas, A.G., Dias, U.S. and de Sousa Junior, R.T. | Joint effect of jamming and noise in wiretap channels with multiple antennas | 2017 | 2017 13th International Wireless Communications and Mobile Computing Conference (IWCMC)  | DOI   |
| Sharma, P.K., Upadhyay, P.K., da Costa, D.B., Bithas, P.S. and Kanatas, A.G. | Hybrid satellite-terrestrial spectrum sharing system with opportunistic secondary network selection | 2017 | 2017 IEEE International Conference on Communications (ICC)  | DOI   |
| Solanki, S., Sharma, P.K., Upadhyay, P.K., da Costa, D.B., Bithas, P.S. and Kanatas, A.G. | Cognitive Multi-Relay Networks with RF Hardware Impairments and Channel Estimation Errors | 2017 | GLOBECOM 2017 - 2017 IEEE Global Communications Conference  | DOI   |
| Bithas, P.S., Efthymoglou, G.P. and Kanatas, A.G. | Intervehicular communication systems under co-channel interference and outdated channel estimates | 2016 | 2016 IEEE International Conference on Communications (ICC)  | DOI   |
| Bithas, P.S., Maliatsos, K. and Kanatas, A.G. | V2V Communication Systems under Correlated Double-Rayleigh Fading Channels | 2016 | 2016 IEEE 83rd Vehicular Technology Conference (VTC Spring)  | DOI   |
| Bithas, P.S., Aspreas, A. and Kanatas, A.G. | A new reconfigurable antenna scheme and its application to vehicle-to-vehicle communications | 2016 | 2016 IEEE 12th International Conference on Wireless and Mobile Computing, Networking and Communications (WiMob)  | DOI   |
| Marantis, L., Maliatsos, K. and Kanatas, A. | ESPAR antenna positioning for Truck-to-Truck communication links | 2016 | 2016 10th European Conference on Antennas and Propagation (EuCAP)  | DOI   |
| Michailidis, E.T., Maliatsos, K. and Kanatas, A.G. | Relay selection in V2V communications based on 3-D geometrical Channel modeling | 2016 | 2016 10th European Conference on Antennas and Propagation (EuCAP)  | DOI   |
| Michailidis, E.T., Maliatsos, K. and Kanatas, A.G. | MIMO V2V Communications Via Multiple Relays: Relay Selection Over Space-Time Correlated Channels | 2016 | European Conference on Networks and Communications, Athens, Greece  |   |
| Nikolaidis, V., Moraitis, N. and Kanatas, A.G. | Dual polarized MIMO LMS channel measurements and characterization in a pedestrian environment | 2016 | 2016 10th European Conference on Antennas and Propagation (EuCAP)  | DOI   |
| Peppas, K.P., Bithas, P.S., Efthymoglou, G.P. and Kanatas, A.G. | Spatial Modulation for V2V and V2I Communications in a Multiple Scattering Environment | 2016 | 2016 IEEE Global Communications Conference (GLOBECOM)  | DOI   |
| Maliatsos, K., Vasileiou, P.N. and Kanatas, A.G. | Full-duplex communications with the use of parasitic array radiators | 2015 | 2015 Wireless Telecommunications Symposium (WTS)  | DOI   |
| Nomikos, N., Michailidis, E.T., Vouyioukas, D. and Kanatas, A. | Mobile-to-mobile communications via stratospheric relays: Relay selection and performance analysis | 2015 | 2015 IEEE International Conference on Communications (ICC)  | DOI   |
| Maliatsos, K., Vasileiou, P.N. and Kanatas, A.G. | Channel estimation and link level evaluation of adaptive beamspace MIMO systems | 2013 | Wireless VITAE 2013  | DOI   |
| Maliatsos, K., Vasileiou, P.N. and Kanatas, A.G. | V-BLAST reception for beamspace MIMO systems with limited feedback | 2013 | 2013 IEEE 24th Annual International Symposium on Personal, Indoor, and Mobile Radio Communications (PIMRC)  | DOI   |
| Michailidis, E.T. and Kanatas, A.G. | A 3-D wideband MIMO channel model for mobile-to-mobile relay-based communications | 2013 | 2013 IEEE 24th Annual International Symposium on Personal, Indoor, and Mobile Radio Communications (PIMRC)  | DOI   |
| Vasileiou, P.N., Thomatos, E.D., Maliatsos, K. and Kanatas, A.G. | Adaptive Basis Patterns Computation for Electronically Steerable Passive Array Radiator Antennas | 2013 | 2013 IEEE 77th Vehicular Technology Conference (VTC Spring)  | DOI   |
| Michailidis, E.T., Theofilakos, P. and Kanatas, A.G. | On the capacity and simulation of 3-D MIMO mobile-to-mobile relay fading channels | 2012 | 2012 IEEE 23rd International Symposium on Personal, Indoor and Mobile Radio Communications - (PIMRC)  | DOI   |
| Michailidis, E.T., Theofilakos, P. and Kanatas, A.G. | A 3-D model for mimo mobile-to-mobile via stratospheric-relay fading channels | 2012 | 2012 IEEE First AESS European Conference on Satellite Telecommunications (ESTEL)  | DOI   |
| Barousis, V., Kalis, A. and Kanatas, A.G. | Single RF MIMO Systems: Exploiting the Capabilities of Parasitic Antennas | 2011 | 2011 IEEE Vehicular Technology Conference (VTC Fall)  | DOI   |
| Michailidis, E.T. and Kanatas, A.G. | Modeling and Simulation of 3-D Wideband HAP-MIMO Channels | 2011 | 2011 IEEE Vehicular Technology Conference (VTC Fall)  | DOI   |
| Michailidis, E.T. and Kanatas, A.G. | On the Capacity of 3-D Space-Time Correlated HAP-MIMO Channels | 2010 | 2010 Second International Conference on Advances in Satellite and Space Communications  | DOI   |
| Michailidis, E.T. and Kanatas, A.G. | Capacity optimized line-of-sight HAP-MIMO channels for Fixed Wireless Access | 2009 | 2009 International Workshop on Satellite and Space Communications  | DOI   |
| Spiliotopoulos, C.G., Kanatas, A.G. and Efthymoglou, G. | UWB channel parameters in a C130 airplane | 2009 | 2009 IEEE 20th International Symposium on Personal, Indoor and Mobile Radio Communications  | DOI   |
| Alrabadi, O.N., Kalis, A., Papadias, C.B. and Kanatas, A.G. | Spatial multiplexing by decomposing the far-field of a compact ESPAR antenna | 2008 | 2008 IEEE 19th International Symposium on Personal, Indoor and Mobile Radio Communications  | DOI   |
| Barousis, V., Kanatas, A.G., Kalis, A. and Papadias, C. | A limited feedback technique for beamspace MIMO systems with single RF front-end | 2008 | 2008 IEEE 19th International Symposium on Personal, Indoor and Mobile Radio Communications  | DOI   |
| Barousis, V., Kanatas, A.G., Kalis, A. and Papadias, C. | A Stochastic Algorithm for Beamforming Using ESPAR Antennas | 2008 | IEEE GLOBECOM 2008 - 2008 IEEE Global Telecommunications Conference  | DOI   |
| Bravos, G.N., Kanatas, A.G. and Efthymoglou, G. | Energy efficiency evaluation of alternative MIMO &x2014mathsemicolon based sensor networks | 2008 | 2008 IEEE 19th International Symposium on Personal, Indoor and Mobile Radio Communications  | DOI   |
| Michailidis, E.T., Efthymoglou, G. and Kanatas, A.G. | Spatially Correlated 3-D HAP-MIMO Fading Channels | 2008 | 2008 IEEE Globecom Workshops  | DOI   |
| Bravos, G.N. and Kanatas, A.G. | Energy efficiency of MIMO-based Sensor Networks with a Cooperative Node Selection Algorithm | 2007 | 2007 IEEE International Conference on Communications  | DOI   |
| Bravos, G.N., Efthymoglou, G. and Kanatas, A.G. | MIMO-Based and SISO Multihop Sensor Networks: Energy Efficiency Evaluation | 2007 | Third IEEE International Conference on Wireless and Mobile Computing, Networking and Communications (WiMob 2007)  | DOI   |
| G. Bravos, A.K. | Combining MIMO and Multihop – Based Transmissions on Energy Efficient Sensor Networks | 2007 | 13th European Wireless Conference (EW2007), Paris, France  |   |
| Christodoulopoulos, C., Kyriakopoulos, C. and Kanatas, A. | A realistic approach to source localization using a wireless robotic network | 2007 | ROBOCOMM 2007, Athens, Greece  | DOI   |
| Kalis, A., Papadias, C. and Kanatas, A.G. | An ESPAR Antenna for Beamspace-MIMO Systems Using PSK Modulation Schemes | 2007 | 2007 IEEE International Conference on Communications  | DOI   |
| Theofilakos, P. and Kanatas, A.G. | Robustness of Receive Antenna Subarray Formation to Hardware and Signal Non-Idealities | 2007 | 2007 IEEE 65th Vehicular Technology Conference - VTC2007-Spring  | DOI   |
| Theofilakos, P. and Kanatas, A.G. | Receive Antenna Subarray Formation for MIMO Systems in Correlated Channels | 2007 | 2007 IEEE 18th International Symposium on Personal, Indoor and Mobile Radio Communications  | DOI   |
| Bravos, G.N., Kanatas, A.G. and Kalis, A. | Power Control Techniques for Energy Efficient Wireless Sensor Networks | 2006 | 12th European Wireless Conference 2006 - Enabling Technologies for Wireless Multimedia Communications  |   |
| G. Bravos, A.K. | A Routing and Power Control Protocol for Energy Efficient Wireless Sensor Networks | 2006 | 6th International Workshop on Applications & Services in Wireless Networks (ASWN2006), Berlin, Germany  |   |
| G. Bravos, A.K. | Lifetime Evaluation and Spatial Correlation Effects on Wireless Sensor Networks | 2006 | 15th IST Mobile & Wireless Communications Summit 2006, Mykonos, Greece  |   |
| Kalis, A., Kanatas, A., Carras, M. and Constantinides, A. | On the Performance of MIMO Systems in the Wavevector Domain | 2006 | 15th IST Mobile & Wireless Communications Summit 2006, Mykonos, Greece  |   |
| Rayess, G., Tsirilakis, I., Kakogiannis, C.G., Kalis, A., Kanatas, A.G. and Constantinou, P. | Java-based simulator for wireless multi-hop networks using directional antennas | 2006 | 12th European Wireless Conference 2006 - Enabling Technologies for Wireless Multimedia Communications  |   |
| Skentos, N.D., Kanatas, A.G. and Constantinou, P. | Experimental Multipath Component Results from MIMO Measurements in a Microcell Urban Environment | 2006 | 12th European Wireless Conference 2006 - Enabling Technologies for Wireless Multimedia Communications  |   |
| Skentos, N., Kanatas, A. and Constantinou, P. | Multipath Parameter Results for Short Range Urban Propagation Environments | 2006 | IEEE International Conference on Wireless and Mobile Computing, Networking and Communications, 2006. (WiMob'2006)  | DOI   |
| Bravos, G. and Kanatas, A. | Energy consumption and trade-offs on Wireless Sensor Networks | 2005 | 2005 IEEE 16th International Symposium on Personal, Indoor and Mobile Radio Communications  | DOI   |
| Skentos, N., Kanatas, A. and Constantinou, P. | MIMO channel characterization results from short range rooftop to rooftop wideband measurements | 2005 | WiMob'2005), IEEE International Conference on Wireless And Mobile Computing, Networking And Communications, 2005.  | DOI   |
| Skentos, N., Kanatas, A., Pantos, G. and Constantinou, P. | Capacity results from short range fixed MIMO measurements at 5.2 GHz in urban propagation environment | 2004 | 2004 IEEE International Conference on Communications (IEEE Cat. No.04CH37577)  | DOI   |
| Angelou, E., Koutsokeras, N., Constantinou, P., Kanatas, A. and Andrikopoulos, I. | An Integrated Admission Control and Preventive Load Control Scheme for W-CDMA GEO Satellite Multicast/Broadcast Networks | 2003 | 10th IEEE Symposium on Communications and Vehicular Technology in the Beneloux, Eindhoven, The Netherlands  |   |
| Moraitis, N., Kanatas, A., Pantos, G. and Constantinou, P. | Delay spread measurements and characterization in a special propagation environment for PCS microcells | 2002 | The 13th IEEE International Symposium on Personal, Indoor and Mobile Radio Communications  | DOI   |
| Popescu, I., Kanstas, A., Angelou, E., Nafornita, L. and Constantinou, P. | Applications of generalized RBF-NN for path loss prediction | 2002 | The 13th IEEE International Symposium on Personal, Indoor and Mobile Radio Communications  | DOI   |
| Karamalis, P., Kanatas, A., Marousis, A. and Constantinou, P. | Genetic Algorithms in Signal Parameter Estimation | 2001 | IASTED AIC'2001, IASTED International Conference, Advances in Communications, Rhodes, Greece  |   |
| Popescu, I., Nafornita, I., Constantinou, P., Kanatas, A. and Moraitis, N. | Neural Model for Path Loss Prediction in Suburban Environment | 2001 | IASTED AIC'2001, IASTED International Conference, Advances in Communications, Rhodes, Greece  |   |
| Popescu, I., Nafornita, I., Kanatas, A. and Constantinou, P. | Hybrid Model Based on Neural Network for Path Loss Prediction | 2001 | IASTED AIC'2001, IASTED International Conference, Advances in Communications, Rhodes, Greece  |   |
| Popescu, I., Nafornita, I., Constantinou, P., Kanatas, A. and Moraitis, N. | Prediction of Outdoor Propagation Path Loss with Neural Networks | 2000 | TELFOR'2000, 8th Telecommunications Forum, Belgrade, Serbia, Yugoslavia  |   |
| Papadakis, N., Kanatas, A., Angelou, E., Moraitis, N. and Constantinou, P. | Indoor mobile radio channel measurements and characterization for DECT picocells | 1998 | Proceedings Third IEEE Symposium on Computers and Communications. ISCC'98. (Cat. No.98EX166)  | DOI   |
| N. Papadakis A.G. Kanatas, E.A.N.M.D.K.A.V. and Constantinou, P. | Indoor Radio Channel Modelling and Simulation for DECT Picocells | 1998 | ICT'98, International Conference on Telecommunications, Porto Carras, Greece  |   |
| Kanatas, A. and Constantinou, P. | Fading prediction model for non-GEO satellites at land mobile satellite channels | 1997 | Proceedings Second IEEE Symposium on Computer and Communications  | DOI   |
| Paliatsos, A., Kanatas, A. and Constantinou, P. | A hybrid CDMA-FDMA indoor microcellular scenario | 1994 | 5th IEEE International Symposium on Personal, Indoor and Mobile Radio Communications, Wireless Networks - Catching the Mobile Future.  | DOI   |
| Papadakis, N., Kanatas, A., Paliatsos, A. and Constantinou, P. | Microcellular propagation measurements and modelling at 1.8 GHz | 1994 | 5th IEEE International Symposium on Personal, Indoor and Mobile Radio Communications, Wireless Networks - Catching the Mobile Future.  | DOI   |
Publications for the Period 1996-2018

Last Update: 30/09/2023
| Author | Title | Year | Journal/Proceedings | DOI/URL |
| --- | --- | --- | --- | --- |
| Fassoi, S., Michailidis, E. and Kanatas, A. | Performance evaluation of MIMO satellite multiple-relay multi-user fading channels | 2015 | 9th European Conference on Antennas and Propagation, EuCAP 2015; Lisbon; Portugal  |   |
| Daskalaki, P.N., Maliatsos, K. and Kanatas, A.G. | Design and analysis of a 5-element ESPAR antenna with an active PIFA | 2014 | The 8th European Conference on Antennas and Propagation (EuCAP 2014)  | DOI   |
| P.N. Daskalaki K. Maliatsos and Kanatas, A. | A Study of SNR Degradation due to Impedance Mismatch in ESPAR Antennas | 2013 | PIERS, Stockholm, Sweden  |   |
| K. Maliatsos, A.K. | Modifications of the IST-WINNER Channel Model for Beamspace Processing and Parasitic Arrays | 2013 | 7th European Conference on Antennas and Propagation (EuCAP), Gothenburg, Sweden  |   |
| Michailidis, E., Petropoulou, P. and Kanatas, A. | Geometry-Based Modeling of Cross-Polarization Discrimination in HAP Propagation Channels | 2013 | 7th European Conference on Antennas and Propagation (EuCAP), Gothenburg, Sweden  |   |
| E.T. Michailidis P.N. Daskalaki and Kanatas, A. | Performance of Capacity Optimized Line-of-sight MIMO HAP-to-train Architectures | 2013 | PIERS, Stockholm, Sweden  |   |
| Thomatos, V., Vasileiou, P. and Kanatas, A. | ESPAR Loads Calculation for Achieving Desired Radiated Patterns with a Genetic Algorithm | 2013 | 7th European Conference on Antennas and Propagation (EuCAP), Gothenburg, Sweden  |   |
| Vasileiou, P., Kakoyiannis, C., Moraitis, N., Marousis, A., Kanatas, A. and Constantinou, P. | Planning Single Frequency Networks for Broadcasting Digital TV | 2013 | 7th European Conference on Antennas and Propagation, Gothenburg, Sweden  |   |
| Michailidis, E.T., Theofilakos, P. and Kanatas, A.G. | A 3-D model for MIMO mobile-to-mobile amplify-and-forward relay fading channels | 2012 | 2012 6th European Conference on Antennas and Propagation (EUCAP)  | DOI   |
| Han, B., Barousis, V., Kalis, A. and Kanatas, A. | Active Parasitic Arrays for Low Cost Compact MIMO Transmitters | 2011 | EuCAP 2011, the 5th European Conference on Antennas and Propagation, Rome, Italy  |   |
| Barousis, V., Kanatas, A. and Efthymoglou, G. | A Complete MIMO System Built on a Single RF Communication End | 2010 | PIERS, Cambridge, USA  |   |
| Barousis, V., Kanatas, A.G., Kalis, A. and Papadias, C. | Closed-Loop Beamspace MIMO Systems with Low Hardware Complexity | 2009 | VTC Spring 2009 - IEEE 69th Vehicular Technology Conference  | DOI   |
| Michailidis, E.T. and Kanatas, A.G. | A three dimensional model for land mobile-HAP-MIMO fading channels | 2008 | 2008 10th International Workshop on Signal Processing for Space Communications  | DOI   |
| P. Theofilakos, A.K. | Reducing Hardware Complexity of MIMO Systems With Antenna Subarray Formation | 2007 | The Second European Conference on Antennas and Propagation (EuCAP 2007), Edinburg, UK  |   |
| Theofilakos, P. and Kanatas, A.G. | Frobenius norm based receive Antenna Subarray Formation for MIMO systems | 2006 | 2006 First European Conference on Antennas and Propagation  | DOI   |
| Theofilakos, P. and Kanatas, A.G. | Reduced Hardware Complexity Receive Antenna Subarray Formation for MIMO Systems Based on Frobenius Norm Criterion | 2006 | 2006 3rd International Symposium on Wireless Communication Systems  | DOI   |
| Bravos, G., Kanatas, A. and Kalis, A. | Channel Modeling and Power Control in SENSASim for Wireless Sensor Networks | 2005 | 3rd International Working Conference on Performance Modeling and Evaluation of Heterogeneous Networks (Het-Nets 2005), Ilkley, West Yorkshire, UK  |   |
| Kanatas, A., Kyritsis, K., Karamalis, P., Skentos, N. and Zetterberg, P. | Reduced Hardware Complexity MIMO Systems with Enhanced Capacity Performance | 2005 | 14th IST Mobile & Wireless Communications Summit, Dresden, Germany  |   |
| G. Bravos, A.K. | Energy-Aware Adaptive Modulation Schemes for Wireless Sensor Networks | 2004 | SPIE European Symposium on Optics/Photonics in Security & Defence, Unmanned/Unattended Sensors and Sensor Networks Conference, London, UK  |   |
| Bravos, G., Kanatas, A., Demestichas, P. and Dimitrakopoulos, G. | Energy-Aware Wireless Sensor Networks, Operating in an End-to-End Reconfigurability Context | 2004 | E2R Workshop on Reconfigurable Mobile Systems and Networks Beyond 3G, Barcelona, Spain  |   |
| Skentos, N., Constantinou, P. and Kanatas, A. | Channel Characterization Results from Fixed Outdoor MIMO Measurements | 2004 | 7th International Symposium on Wireless Personal Multimedia Communications (WPMC 2004), Padova, Italy  |   |
| Angelou, E., Koutsokeras, N., Kanatas, A. and Constantinou, P. | SIR-based uplink terrestrial call admission control scheme with handoff for mixed traffic W-CDMA networks | 2002 | 4th International Workshop on Mobile and Wireless Communications Network  | DOI   |
| Kanatas, A., Moraitis, N., Pantos, G. and Constantinou, P. | Wideband characterization of microcellular suburban mobile radio channels at 1.89 GHz | 2002 | Proceedings IEEE 56th Vehicular Technology Conference  | DOI   |
| Popescu, I., Nafornita, I., Kanatas, A. and Constantinou, P. | Applications of General Regression Neural Networks for Path Loss Prediction | 2002 | International Workshop, "Trends and Recent Achievements in Information Technology", Cluj-Napoca, Romania  |   |
| Karamalis, P., Marousis, A., Kanatas, A. and Constantinou, P. | Direction of arrival estimation using genetic algorithms | 2001 | IEEE VTS 53rd Vehicular Technology Conference, Spring 2001. Proceedings (Cat. No.01CH37202)  | DOI   |
| Marousis, A., Karamalis, P., Kanatas, A. and Constantinou, P. | Design and simulation of a vector channel sounder for UMTS | 2001 | IEEE VTS 53rd Vehicular Technology Conference, Spring 2001. Proceedings (Cat. No.01CH37202)  | DOI   |
| Povescu, I., Nafomita, I., Constantinou, P., Kanatas, A. and Moraitis, N. | Neural networks applications for the prediction of propagation path loss in urban environments | 2001 | IEEE VTS 53rd Vehicular Technology Conference, Spring 2001. Proceedings (Cat. No.01CH37202)  | DOI   |
| Kanatas, A., Marousis, A., Karamalis, P. and Constantinou, P. | Development of a vector channel sounder for UMTS | 2000 | Proceedings of the Second International Symposium of Trans Black Sea Region on Applied Electromagnetism (Cat. No.00TH8519)  | DOI   |
| Karamalis, P., Marousis, A., Kanatas, A. and Constantinou, P. | Design of microstrip antennas for channel characterization receiver system | 2000 | Proceedings of the Second International Symposium of Trans Black Sea Region on Applied Electromagnetism (Cat. No.00TH8519)  | DOI   |
| Kanatas, A., Moraitis, N., Steriadis, C., Papadakis, N., Angelou, E. and Constantinou, P. | Measurements and Channel Characterization at 1.89 GHz in Urban and Suburban Environments | 1999 | WPMC'99, Wireless Personal Multimedia Communications Conference, Amsterdam, The Netherlands  |   |
| Kanatas, D.A., Papadakis, N., Chatzopoulos, P., Sofos, T. and Constantinou, P.P. | Land-Mobile Satellite Channel Measurements in Athens City Center at 1800 GHz | 1997 | International Mobile Satellite Conference - IMSC'97, Pasadena  |   |
| Kanatas, A., Kanderakis, E. and Constantinou, P. | Narrowband Land Mobile Satellite Channel Modeling | 1995 | International Mobile Satellite Conference - IMSC'95, Ottawa, Canada  |   |
| Papadakis, N., Kanatas, A. and Constantinou, P. | Radio propagation measurements and modelling using ray tracing techniques | 1994 | Proceedings of IEEE Vehicular Technology Conference (VTC)  | DOI   |
| A.G. Kanatas, P.C. | Propagation Aspects of LEO Satellite Systems for Third Generation Mobile Systems | 1993 | COMCON 4, 4th International Conference on Advances in Communication & Control, Rhodes, Greece  |   |
| Kanatas, A., Mertzanis, I. and Cvetkovic, S. | Investigation for Integration of Simulation Software Packages | 1993 | COMCON 4, 4th International Conference on Advances in Communication & Control, Rhodes, Greece,  |   |